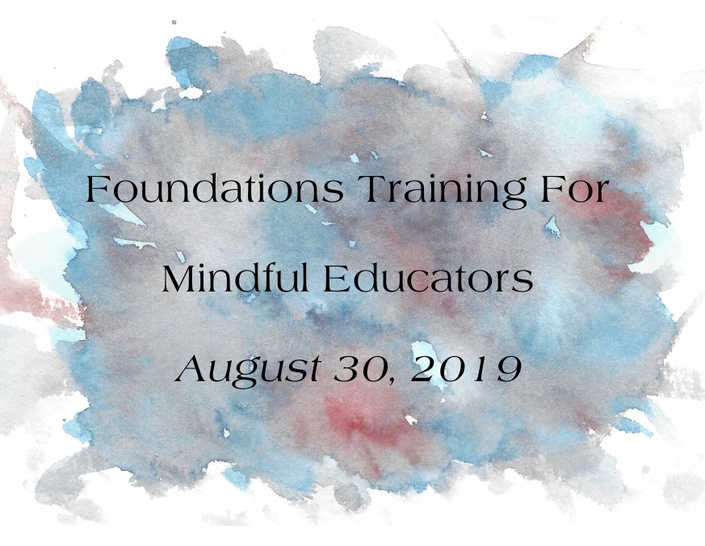 Foundations Training for Mindful Educators August 2019 Session
For Grades K-8
Foundations Training For Mindful Educators
Dates: August 30, 2019 - December 23, 2019
Course Price: $616.00
Through August, Enroll in the Foundations Training for Mindful Educators and save $100 when you use the promotional code BACKTOSCHOOL. (Some restrictions apply. $100 off of the Foundations Training for Mindful Educators applies only to the full price course and cannot be used on payment plans or combined with any other offers).

COURSE OVERVIEW

Foundations for Mindful Educators is a new innovative online Personal and Professional Development (PPD) course.Throughout the 16 week session, participants will be guided by Mindfulness First Instructor, Emmanuelle Giumelli, as they learn Mindfulness Based Social and Emotional Learning (MBSEL) for both themselves and their students.

As a fully online course, participants can create a schedule and time commitment that best suits their needs. Our Personal Development lessons require about 20 minutes each week. Our Curriculum Training lessons take approximately 15-35 minutes per week and include recorded and written curriculum for participants to review, learn from, and become familiar with. We recommend dedicating a total of 55 minutes per week to learning from the course; with additional time spent enjoying discussions with session members and Instructor, Emmanuelle.
---
WHAT'S INCLUDED?
Section 1: Personal Development - Mindfulness Booster Lessons
Personal Mindfulness Lessons (aka "Boosters Lessons") are the Personal Development component of this Personal and Professional Development (PPD) course. Participants receive 20 minute lessons with information and tools for educators to attain greater self-awareness and well-being through internal resources such as emotional resilience and mindfulness. During the 16 week session, lessons become available each week and can be watched anytime, at the participant's convenience. Online community discussions are ongoing each week and facilitated by Instructor Emmanuelle Giumelli, who is also available individually via email and office hours.
Section 2: Professional Development - Curriculum Training
Curriculum Trainings are the Professional Development component of this Personal and Professional Development (PPD) course. In tandem with personal development lessons, participants receive 16 weekly curriculum themes that mirrors the Personal Development Lessons and creates a foundational classroom curriculum. Participants will be given Mindfulness First's proprietary curriculum, recorded example lessons, and innumerable resources and curriculum resources will be made available every week, and can be reviewed at leisure. Utilizing these resources, each participant is encouraged to nurture their own way of bringing MBSEL to students, whether it be their own style of teaching or specific to the population they work with. Ongoing community curriculum discussions will be available online, as above.
What's Included in the Deliverables

16 Personal Mindfulness Development Lessons and Resources
Written K-8 Curriculum
Audio K-8 Curriculum
Monthly group online check-in gatherings
Children's Journal and Activity Pages
Recorded Examples of Mindfulness First Teaching Each Theme
Resources for Each Theme
Permanent access to course and all future updates
Permanent membership to our private mindfulness forum
6 month free membership to Mindfulness First Community Circle
Monthly online check-in gatherings
You will be able to meet our instructors, ask questions, share experiences and network with like-minded educators.
Optional Add-Ons (Where Available)
In-school lesson modeling with a Mindfulness First Instructor (extra cost involved)
In-person gatherings (alongside online gatherings)
Certification and Continuing Education Credit Hours
Participants receive a certificate of completion and a certificate for 10 CPD credit hours.
Full or Partial Scholarships Available
We have a limited number of scholarships per cohort. Please feel free to apply here by 8/15/19: https://bit.ly/applyforascholarship.

Here's what our past students have to say:
"Thank you so much for the lessons and the practice. I feel like I have really evolved as as educator this year. I am grateful for the new ideas to better help my students grow to their fullest potential. Please keep me in mind for the Advanced Mentorship Training starting in August, I am very interested."
-Maureen L. (Foundations Training for Mindful Educators)
"I am so grateful I got to participate in the Winter Cohort-Foundations Training for Mindful Educators. I was able to use the tools and curriculum immediately in the yoga/mindful classes I teach at Montessori Schools in the East Valley. The format of the program was incredibly accessible. It gave a Curriculum to use in a classroom, Journal pages, Activities ideas, inspiration, and book recommendations. I found the Live videos of teachers demonstrating how to teach the lesson to a classroom very beneficial. I am looking forward to the Advance Training for Mindful Educators in August. Thank you Sunny!"
-Kit W. (Foundations Training for Mindful Educators)
"Thank you so much for this class. I have learned so much and have enjoyed all the practices and time with my kids teaching them and watching them grow. I can't wait to start mindfulness earlier in the school year and see it unfold to it's full potential. teaching in a multi-age classroom, I'm excited to see how my soon to be 2nd graders will respond and continue to carry on being mindful (same goes to my new first graders as well)."
-Courtney S. (Foundations Training for Mindful Educators)
"Thank you for this program. I've been wanting to take this class for awhile now and I'm so glad I had this opportunity! I find that the lessons are very appropriate and user friendly for my young students. I look forward to starting the school year with the program this next fall. There are so many great resources that I'm excited to add to my program. Also, I appreciate the focus on us as professionals to create and practice our own mindfulness practice first. Practice what we teach."
- Tiffany G. (Foundations Training for Mindful Educators)
COURSE INSTRUCTOR:
Emmanuelle Giumelli | Course Instructor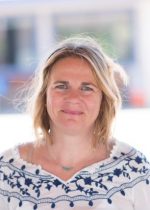 Emmanuelle Giumelli has been working in Flagstaff, AZ for 13 years, in schools, as a mindfulness based mental health therapist. Her certifications as a mindfulness educator are extensive. She has been a mindfulness consultant and educator since 2012 in schools and her community. She is the author of the children's book See, Hear, Feel: Mindfulness for Children One Moment at a Time (Wisdom Publications, 2018). Emmanuelle's work is sustained by a dedicated mindfulness practice and mindful living in Northern Arizona

What We're Working On:
Welcome
Available in days
days after you enroll
Pre-Program Survey
Available in days
days after you enroll
SEL - Social Emotional Learning
Available in days
days after you enroll
Frequently Asked Questions
When does the course start and finish?
The course starts on August 30, 2019 and finishes on the week of December 23, 2019. Graduates will have permanent access to this course and its contents. Graduates will also be able to take an Advanced Training For Mindful Educators course with Mindfulness First (extra cost involved) to take a deep dive into curriculum ideas.
How long do I have access to the course?
You will have permanent access to the contents of this course and its resources.
What if I am unhappy with the course?
Refunds for students who withdraw after tuition has been paid, but 5 days before the first day of classes, will receive 100% of the tuition. After the beginning of classes, refunds will be calculated as follows: A refund of 50% for withdrawal during the 5 days before class and during the first week of class. No refund will be made after the first week of the course.
Who should take the course?
This is a great course for anyone who works with children. It is designed to provide resources for a classroom setting but these resources are helpful wherever you may be working with kids.
Are there prerequisites?
There are no specific prerequisites. In this course we teach mindfulness for you, and we give you themes and ideas for how to then teach mindfulness to children. We ask that you have a genuine desire to self-reflect during your personal mindfulness lessons, a team spirit so that you can learn and grow with your cohort members, and a sense of commitment for the journey to mindfulness.
I am registered now what?
You will receive your receipt for purchase. Your instructor will contact you about a week before class starts to get you oriented.
How do I access the course?
You can access Mindfulness First's "teachable.com" school via your computer or phone. Download their App to your phone for quick, user-friendly access on-the-go (we recommend the App!). And for when you are sat at your desk, just keep the URL bookmarked and you will be able to quickly log in to the course anytime.
How long is my course?
This course is 17 weeks long. The first week is an introduction and review of what's to come and then a total of 16 lessons. It takes time and reflection to learn mindfulness in a way that will be sustained. The 16 weeks are designed to fit into your existing schedule, and give you a running start for a mindful life and skills as a mindfulness teacher.
Do I need to buy any additional resources or materials to participate?
Not from us. We have a lot of resources for you to print out if you desire, everything is stored digitally for your convenience.
Do I need to be online at certain times to participate?
The vast majority of this course is available for you to watch and read at your convenience. There will be three online gatherings to help build learning and create community. You will be given advance notice of these dates (they may already be included on this page). Should you have any scheduling conflicts, please reach out to your instructor.
I am not a classroom teacher. Would I still benefit from taking the online course?
Absolutely! If you are interested in learning mindfulness for yourself and receiving resources for sharing mindfulness with children, then this is a great course for you.
Can I earn continuing education credits with Mindfulness First's online courses?
Yes! We offer a 10 hour certification.
Cancellation of an online course
Mindfulness First strives to provide the highest level of quality, and we reserve the right to cancel or postpone an event when necessary. If you are registered for an event that is cancelled, fee paid will be held on account for a future event or refunded.
When should I register?
Courses may fill up fast, be sure to register early. Limited spots available.
Do you provide financial assistance?
We have a limited number of scholarships per cohort. Please feel free to apply here by 8/15/19: https://bit.ly/applyforascholarship. If you are not able to receive one for this session, we will add you to the waiting list (for the next session) in the order received.
Do you offer a payment plan?
For this course, we offer payment options for new registrants up until August 15, 2019. You will find the options at the check out. After that time, new registrants will be required to pay in full at the time of sign-up.
What is the Community Circle?
Our Community Circle is an online meeting space for Mindful Educators to network, learn and grow together. Once a month we meet online via Zoom (meetings are recorded for your convenience) and at other times we talk online via our private forum. Our monthly online meetings always include a guest speaker who shares about their field of expertise; CEUs are usually available.
When will I be enrolled in the Community Circle?
You will be enrolled shortly following your course registration.
How do I access the Community Circle once I'm enrolled?
When you log into your Mindfulness First Teachable account and select "My Courses" in the upper top bar of main page you will see the "Community Circle" as one of your courses. Click on it to view.
How long will I have access to the Mindfulness First Community Circle?
Once registered into your course we will enroll you into the Community Circle. You will be given a 6 month free subscription. If after 6 months you would like to continue your subscription you will need to re-enroll yourself into the Community Circle.
What is the Mindfulness First Community Forum?
Mindfulness First has created a private online discussion community site to be used to facilitate communication and collaboration between mindful educators. As a user you will be able to create your own profile, send public or private messages, form or join groups, share status updates, network, participate in forum discussions and much more. This is a place where you can seek support, make connections, swap ideas, inspire each other and share your experiences. Our Forum is dedicated to discussion on all topics related to mindfulness and self-improvement a community where people interested in mindfulness can explore and share resources, events and experiences related to mindful living.
When will I have access to the Forum?
You will be given access shortly after you have been enrolled into your Foundations Course. Please keep in eye out for a welcome email to our Mindfulness First Community Forum. You will have lifetime access to forum.
How do I access the forum once enrolled?
Do you have an affiliate program that I might be interested in?
Yes! We call it our Ambassador program. Mindfulness First Ambassadors who share our online classes with their friends, family, and colleagues will receive up to $25 per referral by using the unique Ambassador Code assigned to you. Mindfulness First Ambassadors will receive a 4.1% commission of earning from all sales using their unique code. Codes cannot be used on enrollees who are awarded scholarships.
How do I become an Ambassador?
Can I support Mindfulness First with a charitable gift?
Can I sponsor a student in taking one of your courses?
For more information about Mindfulness First please visit our website. If you have any questions that we haven't answered here, please contact us at [email protected]. Thank you!