Introductory Course Price: $425.00 (New Price will increase in 2020).

About This Course:
Our Advanced Training For Mindful Educators course is mentorship-based programming to support graduates of our Foundations Training For Mindful Educators course. Graduates will already have received personal training in Mindfulness Based Social Emotional Learning (MBSEL) via their Foundations course. They will also have received lifetime access to all of the resources they need to teach MBSEL to the children they work with.
This Advanced course supports our graduates as they create a plan for MBSEL in their school, place of work, family and/or personal life. Working closely with their mentor - Mindfulness First Program Director Emmanuelle Giumelli - they will take the time to reflect on their new knowledge, habits and practices developed during their Foundations course. Participants will think about their dreams for how they wish to implement and teach MBSEL in their life and work. With 8 weekly themes, lessons and support material, participants will be guided towards a written plan and the beginnings of implementation. The overarching theme of this course is for graduates to feel supported in their new MBSEL life-habits
The Course Includes:

- Weekly themes to support the creation of your personal MBSEL plan.
- Themed, weekly video guidance sessions with Emmanuelle, to include a weekly MBSEL practice to support your MBSEL habits, practice and growth.
- Weekly mindful movement videos to support your MBSEL habits, practices and growth.
- Continued learning opportunities: new ideas and inspirations to help develop your plan and implementation. Learning opportunities include lessons in "Circle Work" and "Cultural Representation".
- Permanent access to course and all future updates.

Certification and Continuing Education Credits
All participants who complete the course will receive a certificate of completion, and a certificate for 8 CPD credit hours.
How Much Does it Cost?
The cost of the Mindfulness Training for Mindful Educators E-Course is our introductory price of $425.00 (new price change January 1, 2020). A limited number of
scholarships
are available for those who qualify. Participants who pay for the course create sustainability and keep our scholarship fund robust. If you're interested in applying for yourself or someone else, please see the FAQ section below for details.
Testimonials:
Review from Maureen, a Public School Pre-K Teacher in Arizona:
"The Mindfulness Educators Advanced Training was so beneficial to me individually and as a classroom teacher. The course gave me the opportunity to methodically put my practice into my classroom and to further develop my personal practice as a student of Mindfulness. The instructors at Mindfulness First guide you through a personalized, self created capstone on adaption and implementation in a supportive and caring format. You will be glad to have this experience to further you personal growth toward you chosen goals."
Review from Audra, a Charter Elementary School Teacher in Arizona:
"I truly enjoyed my Advanced Training for Mindful Educators Course. The instructors were wonderful; easily accessible, kind and respectful, supportive and encouraging. My favorite part of the class was the community circle/zoom calls, where we were able to meet and connect with other mindful educators and discuss topics relevant to our learning. I also really enjoyed creating my vision board. This course helped me to connect and grow my own mindfulness practice. I am grateful for the support in guiding me towards my next steps in my mindfulness journey. Thank you!"
Review from Kit, a private Yoga and Mindfulness teacher who provides services in Arizona schools:
"I participated in the Foundations Training for Mindful Educators in the Winter of 2019. The program was the best experience I have ever had. It is deeply needed in our school system. When we teach children social emotional skills; such as self-regulation, self- awareness we help children help themselves. I continued on to take the Advanced Training for Mindful Educators. I highly recommend taking the Advanced training. The course provided a ton of one-on-one support, mentorship and goal implementation. It helped me turn my dream of working with youth in trauma into a clear and attainable vision and helped me implement it into a realistic and attainable experience."
Your Instructor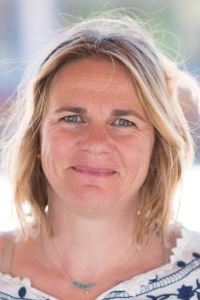 Emmanuelle Giumelli is a Program Director at Mindfulness First. Emmanuelle has been working in Flagstaff, AZ since 2005 as a mindfulness based mental health therapist in schools and her community. Her certifications as a mindfulness educator are extensive. Emmanuelle is also a mindfulness consultant and educator since 2012 and has worked with numerous schools both independently and in partnership with Mindfulness First. She is the author of the children's book See, Hear, Feel: Mindfulness for Children One Moment at a Time (Wisdom Publications, 2018). Emmanuelle's work is sustained by a dedicated mindfulness practice and mindful living in Northern Arizona with her family.
What We're Working On:
Welcome
Available in days
days after you enroll
Mentorship & Zoom Video Chat
Available in days
days after you enroll
Week 1: Reflecting On Your Foundations Training
Available in days
days after you enroll
Frequently Asked Questions
When does the course start and finish?
This is a 8 week course Beginning on January 13, 2019 and ends the week of March 2, 2019. Graduates will have permanent access to this course and its contents.
How long do I have access to the course?
You will have permanent access to the contents of this course and its resources.
What if I am unhappy with the course?
Refunds for students who withdraw after tuition has been paid, but 5 days before the first day of classes, will receive 100% of the tuition. After the beginning of classes, refunds will be calculated as follows: A refund of 50% for withdrawal during the 5 days before class and during the first week of class. No refund will be made after the first week of the course.
Who should take the course?
Graduates of Mindfulness First's Fundamentals Training for Mindful Educators
Are there prerequisites?
Yes, you must be a graduate of the Mindfulness First Fundamentals Education for Mindful Educators online course.
I am registered now what?
Your entire course will be available for viewing when your course begins.. Your instructor will contact you by email when course begins.
How do I access the course?
You can access Mindfulness First's "teachable.com" school via your computer or phone. Download their App to your phone for quick, user-friendly access on-the-go (we recommend the App!). And for when you are sat at your desk, just keep the URL bookmarked and you will be able to quickly log in to the course anytime.
How long is my course?
This course is 8 weeks long.
Do I need to buy any additional resources or materials to participate?
Not from us. We have a lot of resources for you to print out or purchase on your own if you desire, everything is stored digitally for your convenience.
Do I need to be online at certain times to participate?
In this course there are support materials available for you to watch and read at your convenience. You will schedule time to meet with your instructor for one-on-one mentorship, and this will be scheduled at your convenience.
Can I earn continuing education credits with Mindfulness First's online courses?
Cancellation of an online course
Mindfulness First strives to provide the highest level of quality, and we reserve the right to cancel or postpone an event when necessary. If you are registered for an event that is cancelled, fee paid will be held on account for a future event or refunded.
When should I register?
Courses may fill up fast, be sure to register early. Limited spots available.
Do you provide financial assistance?
We have a limited number of scholarships per cohort. Please feel free to apply here: https://bit.ly/applyforascholarship. If you are not able to receive one for this session, we will add you to the waiting list (for the next session) in the order received.
Do you offer payment plans?
Yes, you will find options if available at the check out.
Do you have an affiliate program that I might be interested in?
Yes! We call it our Ambassador program. Mindfulness First Ambassadors who share our online classes with their friends, family, and colleagues will receive up to $25 per referral by using the unique Ambassador Code assigned to you. Mindfulness First Ambassadors will receive a 4.1% commission of earning from all sales using their unique code. Codes cannot be used on enrollees who are awarded scholarships.
How do I become an Ambassador?
Can I support Mindfulness First with a charitable gift?
Can I sponsor a student in taking one of your courses?
For more information about Mindfulness First please visit our website. If you have any questions that we haven't answered here, please contact us at [email protected]. Thank you!